Blooming hydrangea heads, giant monstera leaves and a sprinkling of pastel bunnies... the floral installation in our Spring photoshoot is a real work of wonder. The woman behind it? London-based floral design talent Hazel Gardiner, whose fresh, colorful aesthetic makes the perfect complement to our new season designs.
Hazel is a London-based gardener, floral designer and broadcaster, who first discovered her green fingers while undergoing intensive treatment for cancer over a decade ago. "I found great solace in cultivating plants during this time," she says.
It was such a mindful and rewarding process, reminding me that the natural world continues, regardless of personal circumstances. I found this really grounding.
This led her to re-train in floristry in 2016, launching her eponymous floral design company shortly after. Since then, her style has become sought after for its unique celebration of color and texture. "I'm an energetic person that tries to keep optimistic," she says. "These traits are reflected by the movement and energy in my work".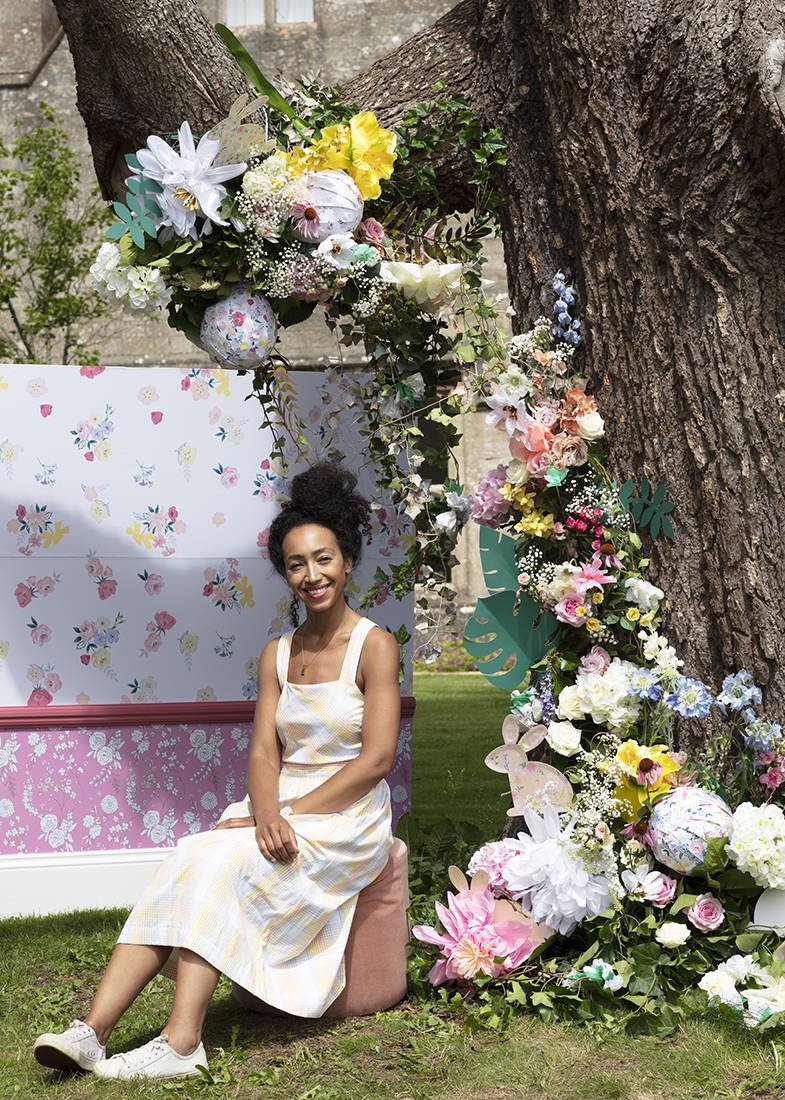 Want to channel some of Hazel's energy into your own home décor this spring? We asked her to share her top tips for creating a beautiful floral table design at home.
1. Choose your tableware and linen

"This will be the foundation of your design, setting the direction of your flower choices. For spring, muted pastel pinks and blues with hints of yellow are a great color combination. If you don't have lots of tableware don't worry, just stick to one or two colors. A white linen tablecloth and crockery, contrasting with a table full of beautiful green foliage is just as impactful."
2. Choose your vases

"Remember that flowers mustn't block the view of the guests around the table. I find low bowls or stem vases perfect to avoid this. Any small, low bowl is fine. You can even use a cereal bowl. Cut a small square of chicken wire, roughly one width and two lengths of your bowl. Scrunch it into a ball and place it inside the bowl so it sits slightly above the rim. Then to secure it, place two strips of floristry adhesive tape to either side (any waterproof tape is fine). This acts as a scaffold for your flower stems, fill with water ready for your flowers."
3. Choose your flowers

"You can source your flowers from your local market, florist or even flower farm. I always try and use local suppliers and seasonal British flowers. It's useful to pick a good range of sizes to create depth and interest. Begin by adding the largest blooms such as hyacinths or tulips, next place in slightly smaller varieties like anemones or hellebores, finally pop in delicate fillers such a primroses or even small stems of blossom to fill any gaps."
4. Arrange your flowers

"Gather your vessels and place 3 -5 stems in each. Play around with height: some can tower over the others to create a dramatic display. Stagger the vases in a loose zig zag formation down the middle of the table for an inexpensive floral runner."
5. Add in your crockery, glass and tableware

"I love folding napkins on top of plates for a restaurant feel. I always use contrasting wine and water glasses and a table display isn't finished until candles are added. You can use flickering wax coated LED candles, great if you're worried about small hands."
6. Finish with place settings

"Take one of your hero flowers and place them on a plate with a name tag. The Unicorn Stand-up Card would make a great place setting for a children's party."
7. And remember to keep it sustainable...

"Don't use any plastic, opting for ceramic and glass vessels instead. You can even create a beguiling display using only paper products. I love Meri Meri's scalloped biodegradable bamboo plates and napkins; I layer the small size on top of the larger one which looks so striking. I try and preserve as much as possible to eliminate waste - even the floral elements could be reused by drying or pressing."
Little people find picnic time, with lots of yummy mini foods, such a special treat. So why not have one in your garden, local park or in your house? Our talented designers have crafted cupcake toppers, for you to create, to make your food look extra fantastic.
---
---